Bimbos' Crazy King
May 28, 1976 to 2007
Dam:
TB mare Crazy Excuse,
Sire: Appaloosa Stallion Prince's Bimbo, (by the legendary Prince Plaudit.)
Yes, I know, possibly THE stupidest name in horse history.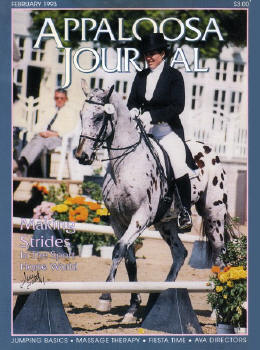 I came to know him at age five at a horse camp I had attended for several years called Royal Redwood Ranch in northern CA. I was 17. He was a skinny, slow horse no one wanted to ride, But, I kept thinking about him because, as inexperienced as I was with horses, I knew he had lovely movement. And I thought if any horse had potential, he did. He didn't do well roaming free with the herd on the 800 acre ranch. He was a horse who could thrive on personal attention. By the end of the summer, he came home with me.
He did do well with personal attention and more food, and we just did what normal people do with horses, trail riding on the amazing trails, galloping about bareback, going to schooling shows and jumping, doing playdays, and even trying an endurance ride. He was a pretty wild guy once he got weight on him, and fast. His TB bloodlines from his mother went back to Hyperion, Man-O-War, and a whole list of legendary racehorses. Why he never raced, I'll never know.
Several years later I took him with me to Pacific Horse Center to get an education in horses. I never had much money and really didn't do the lesson thing, but wanted to know I was getting good knowledge. Joe and Claudia Ayres at RRR were my primary teachers in what I knew about horses, and they gave good all-around basics. But, if wanted to learn more, I wanted to learn it the right way from the best. I didn't want to specialize, so did western, jumping, and dressage, (the boring part.) I never really got into dressage there, but did make the acquantaince of Dennis Callin, who was short-listed for the Olympic team on Zenith, and riding a young black Swedish stallion called Zorn. I never rode with him, and he pretty much knew me only from the time the clippers I was using caught fire when he was in the barn with Zorn and helped me put it out. After I left I went to Virginia and worked for Torrance Fleischmann, who was just coming off a gold medal at the '94 Olympics in LA in eventing. I returned to CA and worked for a hunter trainer. I eventually left that and started doing lessons on my own and going to college.
About this time Denny Callin was back in CA. (After I left PHC it shut down and he and his wife moved to Colorado.) For some reason, I decided I wanted to work on dressage, and started bringing him to Oakland for dressage clinics. I don't know why, but we just kept doing it, and it seemed to click. Denny wasn't all that hot on the 10 plus year old spotted horse and didn't think he would go far. He never thought we would get the half passes, then the changes, then the tempi changes, and so on. Whatever it was, dressage seemed to be something that clicked for both of us. I registered him with USDF and USEF as Bymbeaux. (hee hee) I didn't want to go changing his name, stupid as it is, and EVERYONE was had all these exotic German-sounding names for their dressage horses, so I wanted to be all exotic, too—as a joke. It was pretty funny the first few years to watch the judges sound out his name and finally realize it, or the announcers pronounce it.
I believe my first California Dressage Society championship show we started at 3rd level. He was still very fast by then, and the slow and steady didn't always work. I remember one of out tests he took off on the extended canter on the diagonal, and it took everything I had to keep him in the ring and not go bolting off. But, we just kept at it. We never did really well, even back then when dressage wasn't so popular, because he wasn't a huge warmblood with the massive gaits. But, so what? Looking back, we did better than a lot of people because we got past first level.
We just kept going and seeing what we could do. We showed dressage, still did schooling shows for jumping, evented, and he was a lesson horse carting around little kids. And of course we went in 4th of July parades, hit the beach, and just had fun with being a horse.
Round about when he was sixteen, I accidentally found out he was about 70-80% blind. I had the vet out for something else, and asked him to look at his eyes because he had just walked right into a big tumbleweed on the trail like he hadn't seen it. My vet didn't believe it and checked his instruments against another horse, because on the surface you would have never guessed. I ended up going to Davis and getting them checked out and to see what could be done. It was Equine Recurrent Uveitis—basically unknown repeated swelling in the eye which causes scar tissue, thus blindness. Usually horses show symptoms of tearing and squinting when they have attacks, but he never had. There was nothing really to do. That did explain why he hit jumps when he came from the right, the worst side, and not otherwise. It never really changed anything, except when the kids jumped him, we made sure he could see the jumps! It never really bothered him. He stayed steady for a time, and then in his early 20's had some ulcers in his eyes, which caused more loss. Round about then we stopped jumping him. He probably could have with verbal signals, but even I'm not up for that! We dealt with it naturally. Now I was aware he couldn't see, the voice and other cues were essential to helping him get along and where to put his feet. For the trail he knew "up" meant going up, "over" was stepping over something, and "easy" was going down, or take small steps for uneven going. That combined with reins, legs, and weight told him everything. And it never bothered him. It was a bit frightening and awe-inspiring to know he really couldn't see anything, but was ALWAYS ready to take off for a good run on the trail with the cliff on one side. He just always assumed you'd steer him correctly and tell him what to do. And he LOVED going for a gallop or running, because now he couldn't really do it on his own. He would follow the other horses when turned out in the arena for a gallop and kind of circle to the inside, but that's not the same as a good run.
Meanwhile, we did dressage and just kept going up and up the levels. We actually tried Intermediare 2 and Grand Prix a few times, but we sucked. He had no passage and no extended trot, (though he had the cutest little piaffe he'd do until his last days,) so when we got an all time high of 56% at Grand Prix, I was happy. No way would I get a gold medal on him. We settled at Intermediare 1 and doing freestyles. That seemed to be his level. And besides, he was 20 or so, and he'd be getting old and retiring soon. Right? We did OK. We'd get to the mid 60's sometimes, and we got to be known for doing freestyles and doing pas de deuxs at the annual championships. We won it three times. Of course, since there was no way we could ever match the color, so we always painted or pasted spots on the other horse. The first one was with my friend Kathy Jorgenson's TB stallion, the second with a Grand Prix horse Denny Callin was riding, and the third was a girl who agreed the same day to do an alien themed ride. I did all of the music and choreography on them all and taught my paired rider the choreography usually the day of the ride, sometimes during the ride.
I also was always doing freestyles through the levels, something that just came naturally to me. I finally found the music from ER, which I loved so much for him that I stuck with it for ten years as the canter music. I changed the trot music to go with it over time from "Crockett's Theme" from Miami Vice to "Monteczuma." We got in the magazine for the Appaloosa Journal in 1993 for being an Appaloosa out there in the non-Appaloosa arena, and an article in 1999 on him being blind and our freestyles.
Along the road, we also did other things. He got the title role in a god-awful movie called "Palooka" that was never shown anywhere. Making the movie was cool, and he was better than all of the other horses, but nothing came of it. We just kept showing. About 22/23 he got more ulcers in his eyes and lost his eyes 100%, where you could wave a hand in front of his eyes and get no response. It didn't bother him. For the most part, he became a better dressage horse because he had to listen. And he was a phenomenal lesson horse because he did and went EXACTLY where you told him. I've had many people who've never been on a horse on him out on the trails. Within ten minutes they are pretty aware riders because they had to learn to be aware of everything their body did.
I just kept showing him, because, though he got a little slower and took longer to warm up, he still loved being out and working, and he could do it. I stopped doing the one tempi changes when he was 25 because that was too hard for him, and his great half passes weren't as steep. But, he could still do the three tempi to two tempi changes on a three loop serpentine that we did for the freestyle pretty easily, and always had a great pirouette. His extended trot never did improve. By that time, Zuri, the fourteen year old mare I bred, raised, and trained, was starting Grand Prix. He was still going, and her six year old daughter, Zena, who I bred to replace Bimbo "when he got old" was schooling half passes, tempi changes, and pirouettes.
The worst time of my life happened in June 2005 when Zuri's colon went through her mesentery—one of those nightmare colics you can't predict, can't prevent, and leaves you absolutely helpless. She survived surgery and fought for two weeks, but her colon wouldn't start working, and I had to go and watch my other fourteen year old child die. While I was crying and broken on the couch, Zena was taken out of my barn by a "friend" who broke the sale contract on her, getting her super cheap on the condition I could always buy her back and always show her. Bimbo was completely blind and had depended on Zuri or Zena to be his seeing eye horse in the pasture they were in for the past fourteen years. Now he was without Zuri, and Zena was taken away. He was left alone, and I was devastated by the loss of the only thing left connected with Zuri, and the betrayal, and at the time, mostly that Bimbo was left alone. He was twenty nine.
I stopped showing, and could barely bring myself to ride. Going out to the barn made me sick to my stomach, but he was there, and he was my amazing horse. He kept me going. We did what we always did, but less. We trail rode our amazing hills, and I schooled him the I-1 work usually twice a week in the arena. I had him on Glucosamine and MSM to help with the creaky joints, and he took longer to warm up, but he was still doing all the work right up to the end.
A year and a half later I knew I had to find another horse, because if I lost B, and didn't have another one, I might not ever get back into it. Fate was there and I found a wonderful Swedish mare that was meant to be. She was a greenbroke eight year old with three babies and smaller than I wanted, but there was so much of Zuri and coincidences there, it was meant to be. I got Sora in November 2006 and enjoyed my two horses—using Bimbo to pony her up the hills and get her in condition. I would ride him, and she would gasp and have to stop half way up to catch her breath while B just chuhhed along.
March 21, 2007 I was called from work. Bimbo was colicing. I had schooled the I-1 work the day before. He was in amazing shape and looking great, with the muscles of a body builder. It was the worst case scenario, again. I had the choice of letting him go right before his 31st birthday, or putting him in the trailer, taking him away from everything he knew to the hospital, to probably die on the table, alone. I couldn't do it. I got to spend my last five hours with him, talk to him, take the last pictures of him, and hold his head as he ate some green grass moments before he went down.
I still can't believe he's really gone. We've been together for twenty-five years, so he's a part of me. He's my child, my buddy, my life. I've only just started to realize what an amazing horse he was and how he affected SO many people. He's been around and going so long, and was SO apparent with his color, everyone knew him.
B, you are my love, and you are always in my heart.
I know I can never find another horse like Bimbo. But, I would like to carry on his legacy of these wonderful spotted horses doing amazing things. If you think you have a horse that just might be able to shock the dressage world again, I would love to hear from you.